2019 - My 20th Year in Comedy (also the Year of the Pig...go figure)

​Summertime...and the comedy schedule is *fuzzy*. Lots of private gigs, charity shows and family traveling - AND, for the first time, a FESTIVAL is in the books.

Keep an eye here and on Facebook/Twitter for details and specifics!

Need an appetizer? I was a guest on Here's What Happened To Me ...it was fun, we sold people out - click the link for iTunes.
Finally...some comedy coming at ya.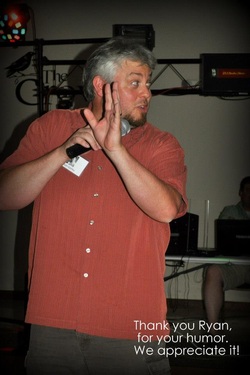 Portland Maine Comedy Festival - various locations August 1 - 11
https://www.portlandmainecomedy.com

​
**Thu, Aug 1 - Port City Music Hall in Portland, ME w/Paul Hunt and Corey Rodrigues
https://www1.ticketmaster.com/event/010056C5CC507F67
**Fri, Aug 2 - House of Bacon in Auburn, ME
https://www.facebook.com/HOBCOMEDYVENUE/
**Thu, Aug 8 - Mast Landing Brewing Co in Westbrook, ME
https://www.facebook.com/events/476607876485663/
Fri, Aug 9 - Zinger's in Milford, NH w/Lenny Clarke
Sat, Aug 17 - Haymarket Lounge at City Winery in Boston, MA w/Joey Carroll
https://citywinery.com/thehaymarketlounge/bostoncomedyfestival81719.html
Sat, Aug 24 - Holiday Inn in Taunton, MA for the Foxboro Lions Club, w/Michael Petit and Harrison Stebbins
https://www.brownpapertickets.com/event/4316888
​Sat, Sep 14 - Portsmouth, NH
Sat, Sep 21: Taunton MA
Fri, Sep 27: American Legion in Acushnet, MA
Sat, Sep 28: Lowell, MA
Sat, Oct 5: Londonderry, NH
Thu, Oct 10: Side By Each Brewing Co in Auburn, ME
Thu, Oct 17: Bear Bones Beer in Lewiston, ME
Wed, Oct 23: 84 Court Pizza in Auburn, ME
Fri, Oct 25: Old Salt in Hampton, NH w/Steve Sweeney
Fri, Nov 1: Plymouth, MA
Sat, Nov 2: Town Hall Theater in Chateaugay, NY
​Sat, Dec 7: Russian Club in Endicott, NY
Fri, Feb 7: Foothills Performing Arts Center in Oneonta, NY
Sat, Feb 8: Deer Run Winery in Geneseo, NY
---
Welcome to RyanGartley.com!
Finally joining the digital age...sorta. I started this 'hobby' in 1999 - peer pressure from a Booze Cruise in Portsmouth Harbor. Over 500 shows since then - still can't remember a joke.
Official Bio:
This New England native and 15 year (ouch) comedy veteran has been performing in clubs, colleges and bars all across the country - from Las Vegas to Bangor, Maine. With his quick, critical observations and dry "family-style" humor he's made a name for himself as one of the hardest working acts out there. A former semi-finalist in the Portland and Boston Comedy Festivals, his humor has been utilized to jump-start audiences for national acts like Lenny Clarke, Jeff Dunham, Steven Wright and Dave Coulier.
Sounds pretty good, yeah?
This isn't my full-time job - just what I enjoy doing. Take a gander below and feel free to shoot me a note:
Gartism@aol.com

See you on the road!
-Ryan
Common Criminal Sightings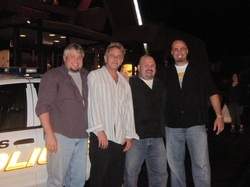 That's me with John David, Steve Scarfo and Mike Koutrobis outside the Kowloon in Saugus, MA.

I have no idea where John got the cop car.

Seriously...no idea.
---

Rocko, me, Michael Damian and Scarfo at the WERZ Beach Bash.

2,500 screaming 14 year olds at the Hampton Beach Casino.

What could go wrong?
---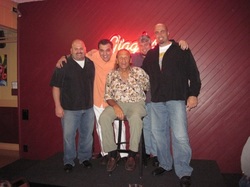 Scarfo, Johnny Pizzi, Bob Seibel, me and Mike Koutrobis at Giggles in Saugus

That stage sure can hold up an ego
---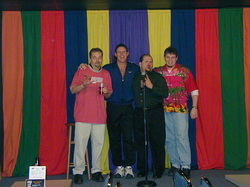 Opening night at Jester's (way back in 2001) with Gary Caouette, Kevin Knox (I miss you, man), Scarfo and me
---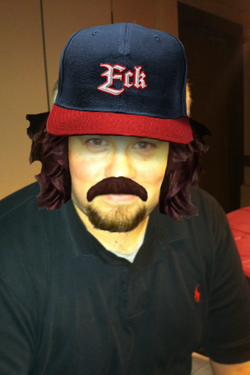 Jimmy Dunn was teaching me how to use his Eck App (
http://www.eckapp.com/
) on Valentine's Day. Neither one of us had a date....so, this is what happens.
---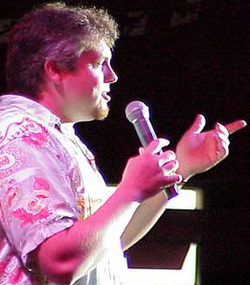 Many moons ago - Hampton Beach Casino Ballroom.
---
20 years of Comedy! So...where have I been?
Here's a taste:

O'Shea's Casino - Las Vegas
Emergency Room - Las Vegas
Beach Club - Las Vegas
Comix - Foxwoods
Kowloon - Saugus,MA
Beantown Comedy Den - Boston
Beantown Comedy Escape - Worcester
Beantown Comedy Vault - Boston
Comedy Connection - Boston & Portland
Joker's & Headliner's - Manchester,NH
Gold Room - Portland,ME
Civic Center - Augusta,ME
Spectacular Event Center - Bangor,ME
Skowhegan Opera House - Skowhegan,ME
Hampton Beach Casino - Hampton Beach,NH
Tupelo Hall - White River Junction,VT & Londonderry,NH
Blue Ocean Music Hall - Salisbury,MA
Pitman's Freight Room - Laconia, NH
Lowell Auditorium - Lowell,MA
Center for the Arts - Natick,MA
Colonial Theater - Keene,NH
Flying Monkey Theater - Plymouth,NH
Performing Arts Center - Caribou,ME
Chunky's Theater - Nashua, NH
Smuggler's Notch - Cambridge,VT
Cranmore Mountain
Pat's Peak
Shawnee Peak
Franklin Pierce College - Concord,NH
Thomas College - Waterville,ME
UMF - Farmington,ME
UMPI - Presque Isle,ME

And - literally - hundreds of bars, lodges, clubs, hotels, restaurants, function halls, back rooms & even a backyard or two.